Cindy Veldhuis Wins Sexual & Gender Minority Early-Stage Investigator Award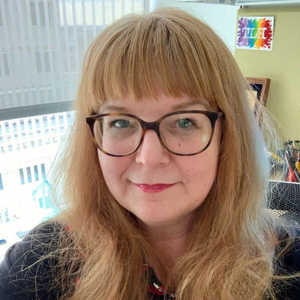 A huge congratulations to Cindy Veldhuis, PhD, for winning the 2023 NIH Sexual & Gender Minority Early-Stage Investigator Award! This award is given by the National Institutes of Health (NIH) Sexual & Gender Minority Research Office for "contemporary achievement in and a commitment to an area of SGM-related health research."
An assistant professor at the Institute for Sexual and Gender Minority Health and Wellbeing (ISGMH) and Department of Medical Social Sciences, Veldhuis studies sexual minority women's relationships and health, as well as the impacts of sociopolitical events on wellbeing.
About the Award
Per the NIH: "The National Institutes of Health (NIH) Sexual and Gender Minority (SGM) Research Investigator Awards Program was developed to recognize investigators who have made substantial and outstanding research contributions in areas related to SGM health. Each year, the SGMRO honors one distinguished investigator (selected internally by NIH staff) and two early-stage investigators (ESI) for their exemplary work and invites them to present a lecture at the annual SGM Research Investigator Awards."
Presentation and Award Ceremony
Veldhuis will give a 20-minute presentation highlighting her research at the virtual NIH Sexual and Gender Minority Research Investigator Awards Program held on September 13 from 12pm - 2pm CT via Zoom.