Johnny Berona Joins ISGMH
The Institute for Sexual and Gender Minority Health and Wellbeing (ISGMH) at Northwestern University is thrilled to welcome Johnny Berona, Ph.D., to its faculty as a research assistant professor.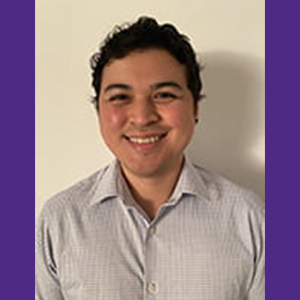 Prior to joining the ISGMH faculty, Berona completed fellowships at ISGMH and the Department of Psychiatry and Behavioral Neuroscience at the University of Chicago. Berona received their Ph.D. in Clinical Psychology from the University of Michigan.
Berona's program of research focuses on suicide and self-injury among sexual and gender minority (SGM) youth, particularly transgender and non-binary populations. Their work aims to advance our understanding of developmental processes underlying self-harm behaviors and to develop evidence-based strategies for screening and intervention.
"My research approaches suicide and self-injury from multiple angles, especially neurodevelopmental and clinical perspectives. A key question anchoring my work is: Why do some SGM youth hurt themselves while most do not? Beginning to answer that question requires building an understanding of how social and emotional development are affected by both stressful experiences that can increase risk, such as discrimination and victimization, and by protective experiences that foster resilience, such as parent acceptance and peer support," said Berona.
A clinical psychologist by training, Berona also has experience providing mental health treatment directly to SGM individuals across the lifespan, with an emphasis on adolescents and young adults.
"The translational aspects of my work focus on screening and prevention. I evaluate assessment tools to determine which are most useful in helping clinicians identify SGM youth at risk for suicide. My intervention research examines long-term outcomes such as whether people are less likely to consider, attempt, or die by suicide after they've received mental health services and preventative interventions, for example," they said.
As a clinician, Berona sees patients at Howard Brown Health in Chicago in addition to their role as an ISGMH faculty member. Involvement in both research and practice allows them to continue examining suicide from multiple vantage points.
"My roles as a clinician and a researcher inform each other, which is especially important for anyone working on suicide-related outcomes as the two are so interconnected. Suicide is a complicated public health problem, and there are qualitative aspects of suicidal individuals' daily experiences that often aren't captured quantitatively. Directly providing mental health services is a way for me to stay grounded in the complexities of those experiences," explained Berona. "Likewise, my ongoing research informs my clinical practice and helps me build more comprehensive treatment plans for my patients."
Berona notes that, although suicide is a leading cause of death globally, much more research is needed to understand it and to create effective interventions.
Along with studies by ISGMH Director Brian Mustanski, Ph.D., Berona completed some of the first published studies of risk and protective factors for future suicide attempts among SGM young people. They are excited to further this research in the unique academic environment ISGMH provides.
"There continue to be major challenges in suicide prevention, and that is especially the case for research on suicide among SGM populations. When it comes to tackling these difficult but critical issues, it's hard to think of a better place to do this work than a university-wide SGM health research institute like ISGMH," said Berona.
Berona's appointment as a research assistant professor at ISGMH began on October 1, 2021.